Spoiler Warning!
This wiki contains plot details and character information that could ruin your enjoyment of the series. If you wish to remain ignorant of such material, please refrain from browsing the wiki.
Welcome to Kitchen Princess Wiki!
Policy • Administrators • Sandbox • Help

The Kitchen Princess Wiki is an encyclopedia that anyone can contribute to! Articles about the manga, the light novel, the characters, and more can be found here.

This wiki is in need of editors! Don't know where to start? Try browsing through these pages to get some ideas:
Article Stubs
Work in Progress

Thank you for stopping by and we hope you enjoy your stay!

1,686 edits, 129 articles, 76 images, 1 active editor(s) since June 22nd, 2011
Featured Article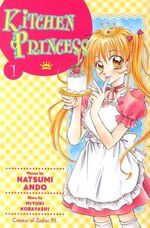 Najika Kazami
---
Najika is a middle school student who recently transferred to Seika Academy, in the hopes of finding her Flan Prince. She loves to cook and has a memory for all the food she's ever tasted. Cheerful and determined, she hopes to follow in her parent's footsteps by becoming as wonderful a chef as they were.
Read more...
Featured Image
Poll
Which character do you like the most? (Part 1)